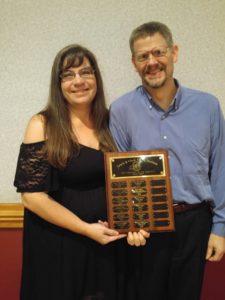 Lewis & Clark Young Marines is please to announce, Brian and Missie Taylor have been named our 2017 Volunteer(s) of the Year. This announcement came at last night's Young Marine Birthday Ball. The Volunteer of the Year award is presented annually to the volunteer(s) who best exemplify a high level of consistent dedication to the unit. The Unit Commander makes the final decision after taking into consideration, nominations from other Staff members.
The Taylors joined our unit in 2012 when their son, now Cpl Phillip Taylor graduated from Recruit Platoon 33112.
Brian and Missie joined the "Chow" team in 2013. They are the people who have taken on the responsibility to feed our Young Marines and Staff at every drill, most encampments, and many special events. That's nearly 100 people!!
They've put in a lot of work over the years to establish and maintain our "Chow" department. When asked why they put in all that extra effort to plan and cook these awesome meals, Missie replied "Everyone has become a part of our family and family deserves the best. We want to make sure they all eat healthy and never go away hungry."
Everyone at Lewis & Clark Young Marines wholeheartedly thanks Brian & Missie Taylor for their continued commitment to our Unit….and our bellies!