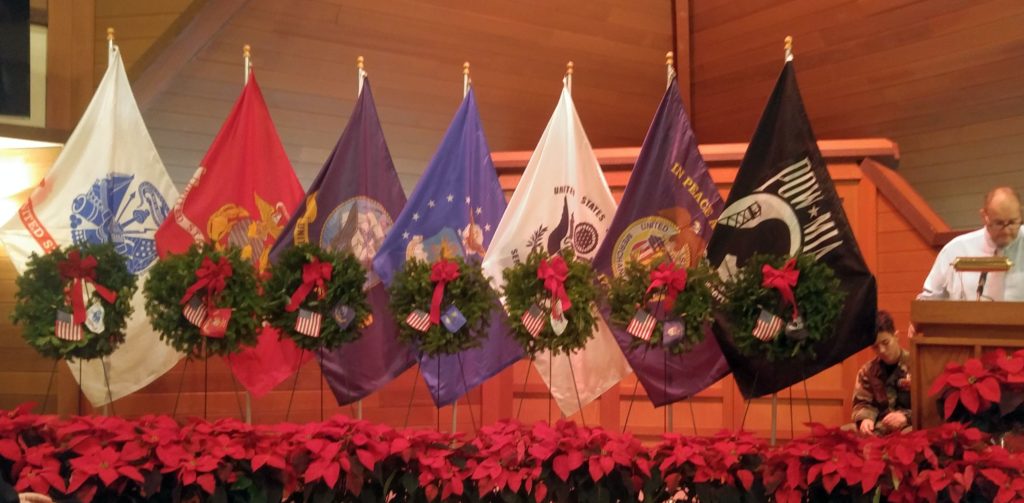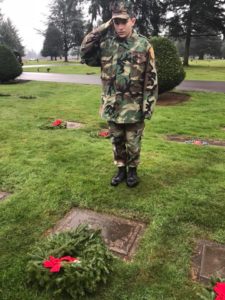 Wreaths Across America is an annual event that occurs nationally in December.  This year, National Wreaths Across America Day was December 16, 2017. The mission to Remember, Honor and Teach was carried out by coordinating wreath-laying ceremonies at Arlington National Cemetery, as well as over 1,200 additional locations in all 50 U.S. states, at sea, and abroad. This year's theme was "I'm an American. Yes, I am."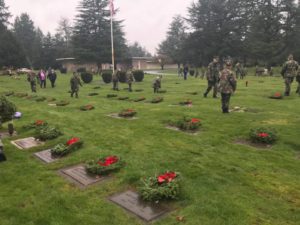 Each year, donated wreaths are delivered to national veterans cemeteries and private cemeteries around the country, where thousands of volunteers take a quiet moment to show their gratitude and appreciation during the holiday season.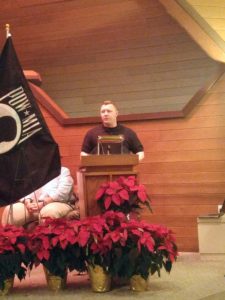 Lewis & Clark Young Marines is proud and honored to be an integral part of the Wreaths Across America ceremony at Evergreen Memorial Gardens in Vancouver, WA. Of the 663 wreaths sponsored for Evergreen Memorial Gardens this year, Lewis & Clark Young Marines, as a unit, sold a total of 461. Our original goal was 400 sponsored wreaths, but our Young Marines quickly met that challenge and raised the bar. We thank each and every one of our supporters for helping us exceed our goal.
The Wreaths Across America Ceremony that preceded the wreath laying in the cemetery was held in the Chapel at 10am. The ceremony officiants were Lewis & Clark Young Marines Chaplain, Mr. Steven Stanley and Young Marine SSgt Joshua Bambilla. The ceremony color guard was performed by Lewis & Clark Young Marines Cpl Chantelle Chapa, LCpl Obed Perez, LCpl Ethan Ganner, LCpl Levi Perez. The ceremony opening remarks were given by Lewis & Clark Young Marines Unit Commander, Mr. Devin Lewis.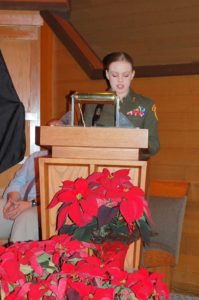 The ceremonial wreath presentation for each branch of the Armed Services was conducted by Lewis & Clark Young Marines MGySgt Emma Langley.  Armed Services escorts were Lewis & Clark Young Marines Sgt Corbett Langley escorting the US Navy Representative, Lewis & Clark Young Marines Sgt Sean Murray escorting the US Army representative and Lewis & Clark Young Marines Registered Adult Mr. Patrick Vernier, Lewis & Clark Young Marines Cpl Derek Chapa escorting the US Air Force representative and Young Marine parent Mr. Jason Ganner, Lewis & Clark Young Marines Pvt Victor Wright escorting the US Coast Guard representative Mr. Rich Koplan and Lewis & Clark Young Marines Pvt Steven Ganner escorting the POW/MIA representative Carol Graber. The Marines and Merchant Marines were escorted by another organization.
After the ceremony was finished in the Chapel, the procession was led to the cemetery by Garth Edwards on bagpipes from the Portland Police Highland Guard and the Patriot Guard Riders.
Vancouver City Mayor Ann McEnerny-Ogle laid the first wreath at the grave of Billy Butz who was killed in action in 1950, missing and was recently identified and laid to rest at Evergreen Memorial Gardens.
The VFW Post # 7824 performed the 21 gun salute and doves were released by Bright Eyes Dove Release. It was then that Young Marines, staff, parents and other volunteers began to lay 663 wreaths on the graves of our veterans.
"Remember this…. In truth a person dies twice, once when he stops breathing, and a second time when somebody mentions his or her name for the last time. Join us in December when over one million volunteers nationwide, will say the names of a million fallen out loud, to make sure they will never be forgotten." – Karen Worcester, Executive Director of Wreaths Across America
Help us Remember, Honor, and Teach by thanking a veteran. From one generation to another, we will NEVER FORGET that the freedoms we enjoy come at such a great cost.