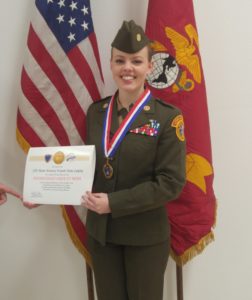 The Lewis & Clark Young Marines are proud to announce the Young Marine Distinguished Order of Merit (DOM) has been awarded to YM MGySgt Emma Langley. YM Langley is only 1 of 3 Young Marines awarded the DOM nationwide for the Young Marines in 2017. The DOM is the highest National Young Marine award/achievement and can be compared to the Boy Scout's Eagle Scout achievement.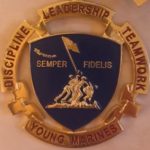 The Young Marine Distinguished Order of Merit (DOM) is the highest award a Young Marine can earn. This award is intended to recognize those who have demonstrated, through their superlative example, the values the program considers worthy of special recognition. The DOM is intended for those senior Young Marines who have committed themselves to the ideals of the Young Marine program. Where they have reached a point in their Young Marine careers where a final level of achievement is made through a process reserved for those special few who have excelled to a higher level. This award may also be presented for special recognition to those who have provided a level of support to the Young Marine program at a national level above and beyond the call of duty. The requirements for the Distinguished Order of Merit are extensive and can takes years to accomplish.
Not only must the DOM recipient meet the ribbon, leadership, teamwork and Esprit Magazine submission requirements, they must also plan, coordinate and report on a Veteran/Community Service Project. YM Langley's community service project was to build and repair fences and obstacles for Windhaven Therapeutic Riding located in La Center, WA.
Windhaven Therapeutic Riding  (WHTR) is a 501c3 nonprofit organization devoted to providing a fun and safe environment for all service members and veterans who struggle with physical and invisible wounds of war. Windhaven Therapeutic Riding's mission is to utilize the mutually beneficial human-equine relationship to promote healing of active duty, reserves and veterans suffering from the effects of Post-Traumatic Stress Disorder (PTSD), Traumatic Brain Injury (TBI) and other service related injuries.
YM MGySgt Emma Langley's Work Party
In a letter from the WHTR Chairman Rodger Morrison, he wrote,  "We are very appreciative of the many hours put in by The Young Marines for fence line cleaning and obstacle course construction. They arrived in a Trailways size bus that was interesting getting up and then back out the driveway. They set up their food line, did their work in a monsoon like downpour, and then packed up. They were the most courteous group of young people I have ever been around."
When asked, MGySgt Langley was quick to acknowledge her mentor. "While it is true that I put a lot of personal time and effort into accomplishing this achievement, I feel the real congratulations belongs to Miss Holly Lewis. She mentored me and brought forth the kind of motivation needed not only for myself, but former Lewis & Clark Young Marine DOM recipients YM Sergeant Major Abigail Bambilla and YM Sergeant Major Marshall McIvor as well. It is in part because of her that we have pushed ourselves so hard to achieve our goals and succeed in our lives both in and out of the program. Please make sure to congratulate her as well. None of us are easy people to handle and she never failed to work with grace and the kind of motivation that brings out the best in even the most difficult people."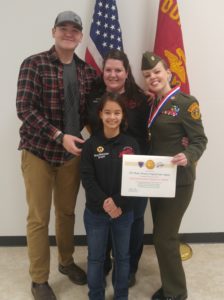 Lewis & Clark Young Marines are proud to have three Young Marine Distinguished Order of Merit recipients.
Nov 2017 YM MGySgt Emma Langley 
May 2016 YM/SgtMaj Marshall McIvor
May 2016 YM/SgtMaj Abigail Bambilla
In fact, former Young Marines McIvor and Bambilla presented YM MGySgt Langley with her award.