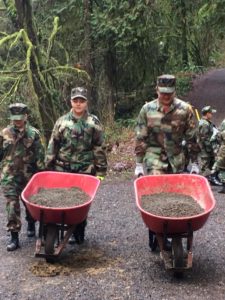 During drill on January 13, 2018, nearly 40 Lewis & Clark Young Marines descended on Whipple Creek Regional Park in Ridgefield, WA to perform trail maintenance for the National Day of Service.
Whipple Creek Regional Park is a 300 acre park with 4.3 miles of trails that cater to horseback riders, hikers, joggers and bicyclists. During the rainy season the trails get muddy and today our Young Marines hauled and spread gravel on several miles of these trails.
Lewis & Clark Young Marines is always looking for ways to give back to the community.