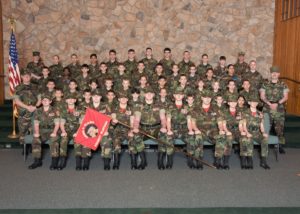 Lewis & Clark Young Marines' first recruit class graduated on December 7, 2002 with 27 recruits.
During the first five years of the Lewis and Clark Young Marines, there were 12 recruit classes with nearly 230 recruits who joined the program.
Recruit Class 41203 graduated 54 Young Marines total, creating a two platoon series. The National Director Mr. Mike Kessler was so pleased with our gigantic recruit platoon, he came out and was our Guest Speaker for that graduation. He presented the National Director's Commemorative Challenge coins to our two Honor Grads that day.
Each recruit platoon awards the best performing, highest scoring, best overall recruit with the prestigious award of Honor Graduate. The Honor Grad receives an Honor Graduate ribbon with the Silver "R" device.
Lewis & Clark Young Marines Recruit Platoon Honor Graduates 2002 to Present
Platoon 32418 – Honor Grad (TBA)
Platoon 32517 – Honor Grad Kennedy Ryan
Platoon 31216 – Honor Grad Shelby Hughes
Platoon 32815 – Honor Grad Dayzsha Ab-Rahman
Platoon 32914 – Honor Grad Joshua Liguid
Platoon 33013 – Honor Grad Carinda Washburn
Platoon 33112 – Honor Grad Abigail Bambilla
Platoon 43011 – Honor Grad Vy Lam
Platoon 51510 – Honor Grad Gregory Fink
Platoon 61309 – Honor Grad Nicolas Perez
Platoon 111508 – Honor Grad Marshall McIvor
Platoon 53108 – Honor Grad Shannon Barbour
Platoon 120107 – Honor Grad Matthew Khoo
Platoon 72807 – Honor Grad Jesse Ivie
Platoon 22407 – Honor Grad Lauren Graben
Platoon 72906 – Honor Grad Greg Merkl
Platoon 21806 – Honor Grad Grant Rodman
Platoon 73005 – Honor Grad Alec Maier
Platoon 30505 – Honor Grad Trevor Nystrom
Platoon 41704 – Honor Grad Shane McClellan
Platoon 92003 – Honor Grad Matthew Wilson
Platoon 41203 – Honor Grad Lawrence Cavallero (Bravo)
Platoon 41203 – Series Honor Grad Chris Boyette (Alpha)
Platoon 120702 – Honor Grad David Sander
Have you figured out how Lewis & Clark numbers their Recruit platoon numbers yet?! We use their date of graduation as their platoon number. Hence, Platoon 41203 graduated Apri 12, 2003. Pretty simple way of remembering your recruit platoon number!