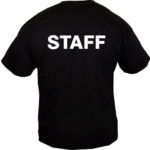 Young Marines units are community-based programs lead by dedicated Registered Adult Volunteers. Many of these volunteers are former, retired, active duty, or reserve Marines who believe passionately that the values they learned as Marines had a positive effect on them.  Though many of our volunteers have prior military experience, it is not required to become a volunteer with the Young Marines. The Young Marines mission of positively impacting America's future by providing quality youth development programs for boys and girls cannot be achieved without our team of dedicated adult volunteers. It is through these caring adults that our Young Marines learn the inner values of Leadership, Teamwork and  Discipline. Young Marines Registered Adult Volunteers invest their time and effort to pass these values on to the youth in their respective communities before other destructive influences take root.
How to become a Volunteer Registered Adult
Step 1–Start Your Background Screening
This link will give you step-by-step instructions on how to register and complete the process at the National Center for Safety Initiatives (NCSI) website. This step takes about 15 minutes and fees are based on the number of states/counties you've lived in. Some counties charge an additional fee for records searches. The base fee is $21-$22 payable by credit card directly to NCSI.
Step 2-Complete The Young Marines Volunteer Registered Adult Application. (You do not have to wait for your background screening to be complete to do this step.)
This application can be filled out online, then printed and signed, or printed then filled out and signed. Submit this completed application, including the three reference letters and the $20 Young Marine National Headquarters (YMNHQ) processing fee, to our Adjutant, Mrs. Kristine Lewis. She is located in the office and can be reached via email at ADJ@LCYM.ORG.
You will be notified by Mrs. Lewis when the final determination of your application has been made by YMNHQ.
More application information can be found in YMNHQ Library in the "Adult Volunteers" folder.
The Registered Adult Manual aka "The RAM", mandates all the rules and regulations adult volunteers are to follow. All Volunteer Registered Adults should carefully read and reference this document.
If you have any questions please ask.