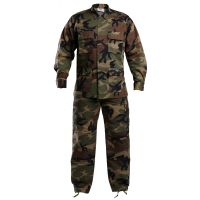 The only approved Young Marine uniform is the Woodland Camouflage Uniform (cammie) and black jungle type boots. No other uniform will be permitted. Popular brands are Rothco, Propper, Vanguard & Tru-Spec. You may find that retailers refer to this uniform as a Battle Dress Uniform or BDU. We have provided links to show examples for the blouse, trousers and boots. We will provide links to a selection of sellers below. Please note cammies and boots are available in both youth and adults sizes. See Sizing Chart HERE
Cammie Blouse-provided by Young Marine/Recruit (SEE EXAMPLE)
Cammie Trousers-provided by Young Marine/Recruit (SEE EXAMPLE)
Boots-provided by Young Marine/Recruit (SEE EXAMPLE)
Black boot/crew socks–provided by Young Marine/Recruit (SEE EXAMPLE)
Boot Polish/Polishing Kit-provided by Young Marine/Recruit (SEE EXAMPLE)
Red National Tee – 1st one provided by Lewis & Clark Young Marines – contact Supply@lcym.org for replacement
Physical Training (PT) Tee – 1st one provided by Lewis & Clark Young Marines – contact Supply@lcym.org for replacement
Unit Tee – 1st one provided by Lewis & Clark Young Marines – contact Supply@lcym.org for replacement
Physical Training (PT) Shorts – 1st one provided by Lewis & Clark Young Marines – contact Supply@lcym.org for replacement
Unit Sweatshirt – 1st one provided by Lewis & Clark Young Marines – contact Supply@lcym.org for replacement
Unit Hoodie – contact Supply@lcym.org
Cover (hat) – 1st one provided by Lewis & Clark Young Marines – contact Supply@lcym.org for replacement
Web Belt – 1st one provided by Lewis & Clark Young Marines – contact Supply@lcym.org for replacement
Blousing Bands – 1st set provided by Lewis & Clark Young Marines – contact Supply@lcym.org for replacement
Backpack – 1st one provided by Lewis & Clark Young Marines – contact Supply@lcym.org for replacement
Name Tapes – 1st set provided by Lewis & Clark Young Marines – contact Supply@lcym.org for replacement
Young Marines Service Tape – 1st set provided by Lewis & Clark Young Marines – contact Supply@lcym.org for replacement
Unit Patches – 1st set provided by Lewis & Clark Young Marines – contact Supply@lcym.org for replacement
**Note: Name Tape/Service Tape & Patch Placement Instructions are HERE
Replacement Ribbons/Ribbon Racks – 1st one provided by Lewis & Clark Young Marines – contact Supply@lcym.org for replacement
This list is a suggested list. You may buy your cammies and boots wherever you choose.
Local Stores
Andy & Bax – Portland, OR
Aloha Surplus – Beaverton, OR
Alleycat Supply – Boring, OR
Online shopping
Vanguard
Young Marine BX
SGT Grit
Amazon.com
Check out the thrift stores too. You never know what you might find.
Things to remember when buying your cammie uniform(s).
They should be a little big with plenty of room to move, but they shouldn't be swimming in them.
Don't worry if the trousers are too long. That's not a problem, they will be bloused.
Black jungle boots need to be "polish-able". Stick with a smooth leather toe and heel, a canvas upper is common.
If you find a great place to buy cammie uniforms and boots, please let us know so we can share with all our families.
We hope this information is helpful to you. If you have any questions please don't hesitate to ask.