The Record Book is the official record of the Young Marine's career with the Young Marines. It's very important both parent and Young Marine become familiar with this record. In addition to your Young Marine record, there are other links to valuable information. The Unit Adjutant, Mrs. Kristine Lewis is responsible for maintaining the accuracy of each YM's Record Book. Please keep in mind, we are a large unit and data is entered by hand. Be patient, and if you have questions, ask. Any questions should be directed to ADJ@LCYM.ORG.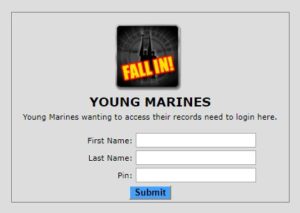 When you log in, you land on the dashboard of the Young Marine's Record Book. On the dashboard you'll find:
A picture of the YM – (YMs new to the Unit may not have a photo yet)
The YM's rank and name
The YM's current ribbon rack – This could very well be the most reference part of the record book. You will use this every time you earn a new ribbon and need to change ribbon racks. Also, if you hover your mouse over the ribbon it will tell you what the ribbon is for.
YM's Status Matrix-Click the blue "Report" button. A compliance report opens and shows:

Drug Demand Reduction (DDR) Compliance Record
Physical Fitness Test (PFT) Compliance Record with scores
Community Service Hours
Community Service Entries

YM's Promotion Eligibility Matrix-Click the blue "Report" button. An eligibility report opens and shows which promotion requirements you have met for your next promotion.
On the left sidebar you will find links for:
Dashboard
My Ribbon Rack– Shows your current ribbon rack.
My Record Book-More detailed accounting of your YM accomplishments.
Practice Tests-This is a great resource to use when studying for a promotion exam.
Submit Esprit Article-This is the submission portal for submitting articles to be considered for Young Marines Esprit Magazine.
Organizational Chart-Young Marines will be tested on the organizational chart from the unit level up, including commanders at the Unit, Battalion, Regimental, Division, National levels.
Chester's Supply Depot
Promotion Chart-Click on the rank and the promotion requirements for that rank are shown.
Awards Chart-A complete list of ribbons available to be awarded to qualifying Young Marines. Click on a ribbon and the requirements for earning that ribbon are shown.
Billet Chart-Shows the minimum rank required for each Billet Assignment.
Attendance History-Shows your attendance history for Drill and Study Nights.
YMU-The link for Young Marine University.
On the drop down menu across the top, you will find:
YMHQ– A link to Young Marine National Headquarters page
About Us-Information about Young Marine National Headquarters
Get Involved-How to Donate, Volunteer & Join
Programs-More information about Drug Demand Reduction (DDR), SPACES & Veterans Appreciation
Library– A link to the Young Marine National Library. The library contains all the manuals and information need for our unit to stay in compliance.
In The News-Links to the Young Marine News Network and Esprit Magazine
Contact Us
My Unit (Green USA) – Takes you to the Lewis & Clark Young Marine page with specific unit information.
As you can see, there is an enormous amount of information here. Take some time to look around. You can't modify your Young Marine's record book so don't be afraid to click on everything and explore.