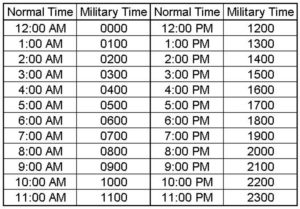 Lewis & Clark Young Marines uses military time quite often. This can be confusing for parents with no military experience. We have compiled some information that may help you.
Military time is based on a 24 hour clock. Our normal everyday clocks are 12 hour clocks and that's why we use am & pm.
Military times from 0001-1159 are am
Military times from 1200-2359 are pm
0000 & 2400 are actually considered to be the same time.
If you are told that your Young Marine needs to be at a specific place at 0930, that means they need to be there at 9:30 am. If you are told to pick your Young Marine up at 1745, that means you need to pick up at 5:45 pm. Note: For times greater than 1200, just subtract 1200 to get normal time, 1745-1200=545=5:45 pm normal time.
How To "speak" Military Time
Now that you know how to read it, you need to learn how to hear and speak it. Any time that starts with a "zero" is spoken that way. For example, 0100 (1 am) is spoken "zero-one hundred" or "zero-one hundred hours". If there are minutes such as 0230 (2:30 am), it's spoken "zero-two-thirty".
Times from 1000-2400 with no minutes, such as 1000 (10 am), are spoken "ten-hundred" or "ten-hundred hours". It's the "hours + hundred".
Times from 1000-2300 with minutes, such as 1345 (1:45 pm) is spoken "thirteen-forty five".