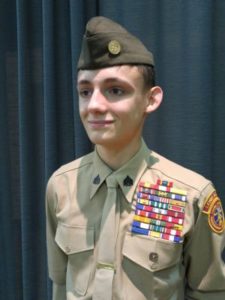 Lewis & Clark Young Marines is pleased to announce,  YM Sgt Logan Nelson has been named 2018 Young Marine of the Year.
YM Sgt Nelson graduated from the 51510 Recruit Platoon. Since then he has attended SPACES Aviation Challenge in Huntsville, AL and attended Young Marine National Junior and Senior Leadership schools.
YM Sgt Nelson is a sophomore at Columbia River HS in Vancouver, WA and plans to attend college to earn his degree in Fire Science and become a fireman.
YM Sgt Nelson will now compete for 1st Washington Battalion YMOY.