Drill is every other weekend unless canceled. You will be notified if drill is canceled. Check the "Unit Calendar" for drill dates.
If you can't make it to Drill you must email the Unit Commander with the reason at: absent@lcym.org
In order for Young Marines to have a successful drill day, they must show up on time, rested, fed breakfast and fully prepared.  This page explains what is expected of Young Marines and Young Marine parents on Drill Day.
7:20am-7:45am – Sign in YM(s) at sign in table. Drop off medication(s) to Medical Officer.
7:45am – Drill begins! Attendance, Turn in $5 lunch money or bring a sack lunch.
8:00am – Morning Formation. Promotions are done during morning formation on the 1st drill of each month.
3:40pm – 4:00pm-Sign out. Young Marines MUST be signed out.
4:00pm – Final Formation. Ribbons and awards are awarded at final formation.
4:30pm – Dismissed
What To Bring To Drill
A great attitude
$5 for lunch or bring your own sack lunch
LCYM issued backpack with guidebook and pencil
Any specific items/equipment requested for that drill, such as camelback, compass etc
Correct Uniform of the Day (UOD)
Uniform of the Day (UOD) descriptions: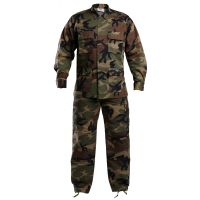 ONLY the Woodland Camouflage Battle Dress Uniform (BDU) is allowed for Young Marine uniforms.  All uniforms are to be clean, pressed and free from rips/tears, missing buttons. Only authorized patches are to be worn on the uniform. 
LCYM Cammie Alphas:
Woodland Camo BDU blouse
Woodland Camo BDU trousers
Red National T-shirt tucked in
Black brush out/jungle/combat boots only (polished)
green/black boot socks
blousing bands
khaki web belt
cover (hat)
dog tags, ID
worn with Chevrons AND Ribbons
LCYM Cammie Bravos:
Woodland Camo BDU blouse
Woodland Camo BDU trousers
Red National T-shirt tucked in
Black brush out/jungle/combat boots only (polished)

green/black boot socks

blousing bands

khaki web belt

cover (hat)

dog tags, ID

worn with Chevrons-no Ribbons
LCYM Charlies:
Red National T-shirt (PT shirt until Red is issued), tucked in

Blue Jeans or Blue Jean Shorts (no sagging, rips or tears)

Khaki color pants/jeans or shorts may be mandated for unit encampments or special events.  

Khaki web belt (when issued)

White socks
Street shoes/tennis shoes
dog tags, ID
LCYM Deltas:
Unit T-Shirt, tucked in

Blue Jeans or Blue Jean Shorts (no sagging, rips or tears)

Khaki web belt

White socks
Street shoes/tennis shoes
dog tags, ID
LCYM PT (Physical Training):
Gray PT shirt with recruit platoon# on back

Black shorts with LCYM logo or

plain

black shorts , NO other logos/stripes etc

White socks

Running Shoes

dog tags
Recruit Drill:  (modified Cammie Bravo)
Physical Training (PT) shirt, gray, with recruit platoon number on back, tucked in
Jeans or Cammie Trousers (Jeans are to fit properly, no bagging/sagging)
Belt (a standard belt is fine until your YM belt is issued)
Black Jungle-type boots- not required until 3rd Drill- sneakers are acceptable until then.  Boots are expected to be polished with high shine on toes and heels.
Other items will be added at appropriate times as issued or required (cover and camouflage uniform)